Africa's Second Strongest Man Victor Kofi Ampofo Calls On Corporate Ghana
The second strongest man in Africa, Ghana's Victor Kofi Owusu Ampofo alias Vandam has called on government and corporate organizations in the country to support the sport.
He mentioned finances, logistics, and ambassadorial deals as tools to help make the sport more lucrative.
The Fitrip GH athlete placed second at the recently-held edition of Africa Strongman held in South Africa, beating competition from representatives from all over the continent.
Speaking to Starbuzz TV, he said strongman is a lucrative sport just like formula one among others adding that it is very unfortunate our country hasn't seen it yet and "I hope to see this change".
He insisted that taking part in any of these would put Ghana on the map. "I hope to see more private companies shed some attention to this sport and provide brand ambassadorial deals. This would motivate others to join the sport and support those of us already in. Fitrip GH has supported me in this journey and I look forward to other gyms, companies, and organizations to do the same for other strongman athletes."
When asked what his reaction was when he was picked to represent Ghana in SA he said "I had mixed feelings. I was glad I finally had the chance to travel outside of Ghana to compete in a real strongman competition with contestants from other countries but, this is the case I didn't know the people I was going to compete with and most of the events were new to me."
He mentioned that the experience was most solemnly. "It was a great experience. I met nice people with similar mindsets. Regardless of the fact that we were competing against each other, contestants cheered each other up, and the willingness to help another mate was surprising to me because it is not the same in Ghana. "
Vandam intimated that the competition really taught him to be tougher than he's always been. Adding that he learned to trust his instincts and listen to his body. "This experience has helped me grow in this sport and for sure I'm going to use all that I learned to improve my skills."
On the deficiencies in Ghana's fitness sector as against other countries, the sportsman noted that "they have the equipment readily available and have the opportunity to use them whenever and wherever. This allows them to become used to the machines and improved their techniques – an advantage I did not have because I was unfamiliar with many of them."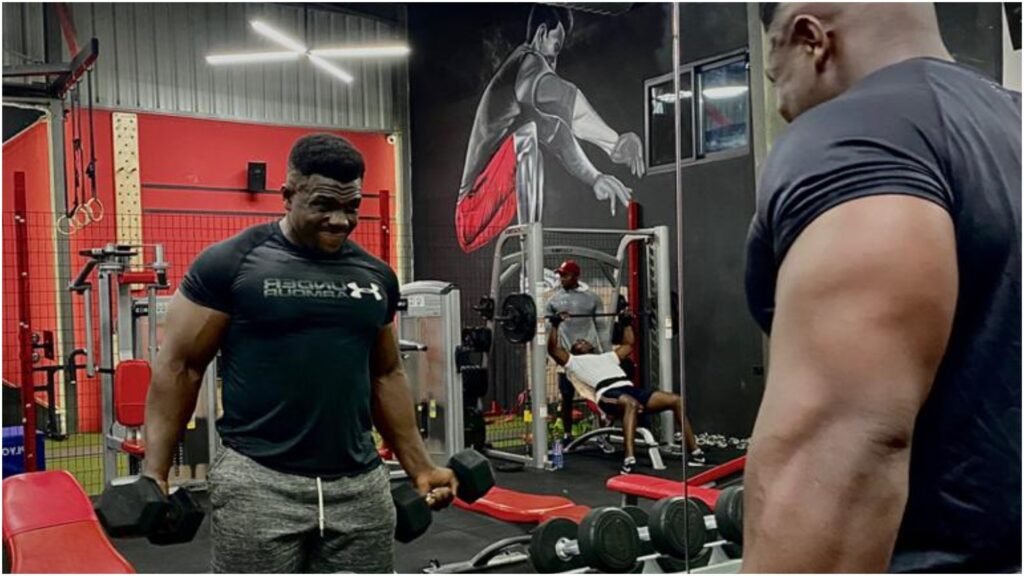 "In Ghana, thanks to Fitrip GH, we have some of the equipment which really helped me in my placing 2nd."
He added "unlike Ghana that we perceive stout men as a menace, it's a profession out there, people do this full time because they understand the sport. With the experience, I've come to the realization that the more I get serious, the higher and better I go and become. So I'm more serious and focused now, and with Fitrip I will surely take part in more international competitions with the ultimate being The World Strongest Man. Arnold's Classic, South Africa 2021 in May and hopefully we shall take part."
Gidochi Releases Official Video for "You P3"
After a successful release of his Mixed Feelings Acoustic video in April, and recent activities of teasing
new images on his social media platforms, Gidochi finally presents us with another extraordinary visuals to complement his classy and well produced record titled "You P3".
The beautiful song which was lifted from his Mixed Feelings EP conveys the message of assurance for a
lover. It has been a favorite of many since its release in November 2020.
The enchanting visuals directed by Ghana's Kobe Outta features the talented singer riding on a vintage
motorcycle while having a fun time with his girl.
The rest of the video also displays captivating scenes with Gidochi showing vulnerable emotions.
More importantly the clip synchs with the concept of the song.
It is impressive to say the 'Supernova Records' signee's music videos over the past years have been
works of art. His music video XXL, was recently nominated in the 'best edited' and 'best photography"
categories at this year's 4syte Music video awards.
The "High With Me" composer has not only proven to be an amazing singer, he has also proven to be a
professional musician by serving memorable visuals that connects audiences to his music.
Watch Video Below:
Video Premiere: Kay Bryn – Money
Ghanaian Hip-hop sensation Kay Bryn has a new one and calls this one "Money" In a special interview with Starbuzz TV when asked about the inspiration behind this song he said "I got the inspiration by a comedy skit which was circulating on social media. It was about a man telling his girlfriend how wild he is thinking of how to make money and so the girlfriend shouldn't disturb him or try not to seduce him.
Money has always been the ultimate goal for a lot of millennials and I have decided to motivate people through my music about the right way of getting that money. Drill was the best way to do this and I believe this will be the jam for this summer and beyond".
Stream Money on all digital platforms here: https://starbuzzmusic.lnk.to/KayBryn-Money
Watch official music video of Money below:
Win A Free Gift From Chase Forever, This Is What You Have To Do.
The award winning Ghanaian RNB singer "Chase Forever" has announced his new upcoming single will be released on July 4th 2021. Before the release he has a lot of goodies for his loyal fans and all they have to do is to pre-save or pre-order the new upcoming single titled "Okekam".
On an Instagram live video Chase asked fans to just Pre-Save his new song with the link in his bio, take a screen shot and tag him. It's that simple and win something special which includes cash prizes.
Chase Forever, labeled the "ladies man," stated that this new song will make a lot of buzz because his fans have been missing him a lot however this project would not disappoint.
He will be performing the new single "Okekam" for the first time at the Afro Mayhem Festival in New Jersey the day before his release.
Below is the pre-save link to Okeka Mu: